MUST READ: Related Reddit thread – some users posting in the thread claim that Donaghey's behaviour was known amongst those he worked with.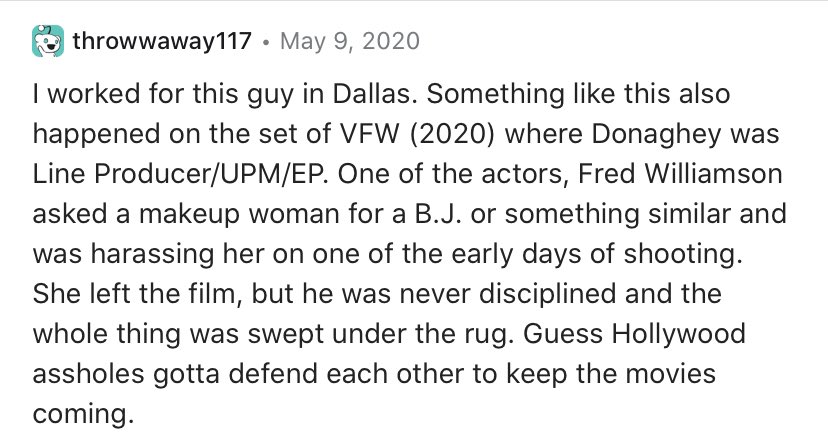 ---
An up-and-coming genre producer from Dallas, Texas has been arrested after he was accused of sexually assaulting a teenage girl several years ago. Adam Christopher Donaghey, 39-years-old, was taken into custody on 27th April on one count of sexual assault of a child. 
Donaghey was released early the next day after posting a $25,000 bond. Under the conditions of his bond, Donaghey is not allowed to have contact with his accuser or her family, or with any minor.
Earlier this year, a woman who play a small role in the 2017 movie A Ghost Story posted on Facebook that Donaghey had raped and molested her during the production of a movie when she was 16-years-old.
Nelson Knight, Donaghey's lawyer, told The Dallas Morning News: "I don't have anything to say to you about that." Dallas police said that the victim/survivor was 16-years-old at the time of the assault but they could not provide any other details about the case because of the crime's nature.
The Dallas County district clerk's office told The Dallas Morning News that "it did not have a copy of Donaghey's arrest-warrant affidavit and referred a request for information to the police department".
One of Donaghey's biggest film credits is as a producer on A Ghost Story, starring Casey Affleck and Rooney Mara, and directed by David Lowery. The movie was shot in Irving, Dallas and other area locations.
In an email to The Dallas Morning News, Lowery said: "I am sickened, angered and saddened by this news. It feels like a betrayal on multiple fronts: of values my partners and I hold dear, of a filming community who embraced him, and most of all a young woman who trust him. I'm grateful for her bringing this matter to light; she has our support, and I hope she'll find justice."
Back in 2019, Donaghey's name showed up on an upcoming movie from Cinestate, a studio which is "headed up" by Dallas Sonnier. Run Hide Fight depicts a fictional school shooting, and filming ended late last year.
Sonnier told The Dallas Morning News in an email that Donaghey has resigned from his roles on all Cinestate projects, including Run Hide Fight, as well as three other movies, Till Death, The Seventh Day, and Castle Freak.
"He [Donaghey] is not associated with the [above-mentioned] company anymore," Sonnier wrote, adding the following, "May God have mercy on his soul."
Court records indicate that Donaghey has no past convictions. Following the news of Donaghey's arrest, genre-related names began tweeting their reactions. Related tweets can be found below:
Stay tuned to Horror Movie Zone for more on this unfolding story. We will follow the story through the justice system procedure.
Source: Dread Central, The Dallas Morning News