UPDATE: According to Jordan Crucchiola (@JorCru on Twitter), Rob Galluzzo has been harassing women for years. We will be penning a seperate article on this issue.
Having kept you up-to-date on the ongoings at Cinestate concerning horrror/genre producer Adam Donaghey's arrest for sexually assaulting a 16-year-old girl several years ago. 
RELATED: New Article Suggests Known Pattern of Inappropriate and Sexual Behaviour By Adam Donaghey
"The horror community has been rocked" by an article published this weekend on The Daily Beast (which you can read here) regarding Cinestate and Adam Donaghey's inappropriate/criminal behaviour on film sets.
On Monday, editors of two publications owned by Cinestate, Birth.Movies.Death and Fangoria released a joint statement on The Daily Beast's article (read in full below).
Summary of Statement: The statement express disappointment in the company, and details the conditions for an ongoing relationship.
Following the release of the statement, a number of "undersigned podcasters" have decided that they can no longer continue to operate under the Fangoria Podcast Network.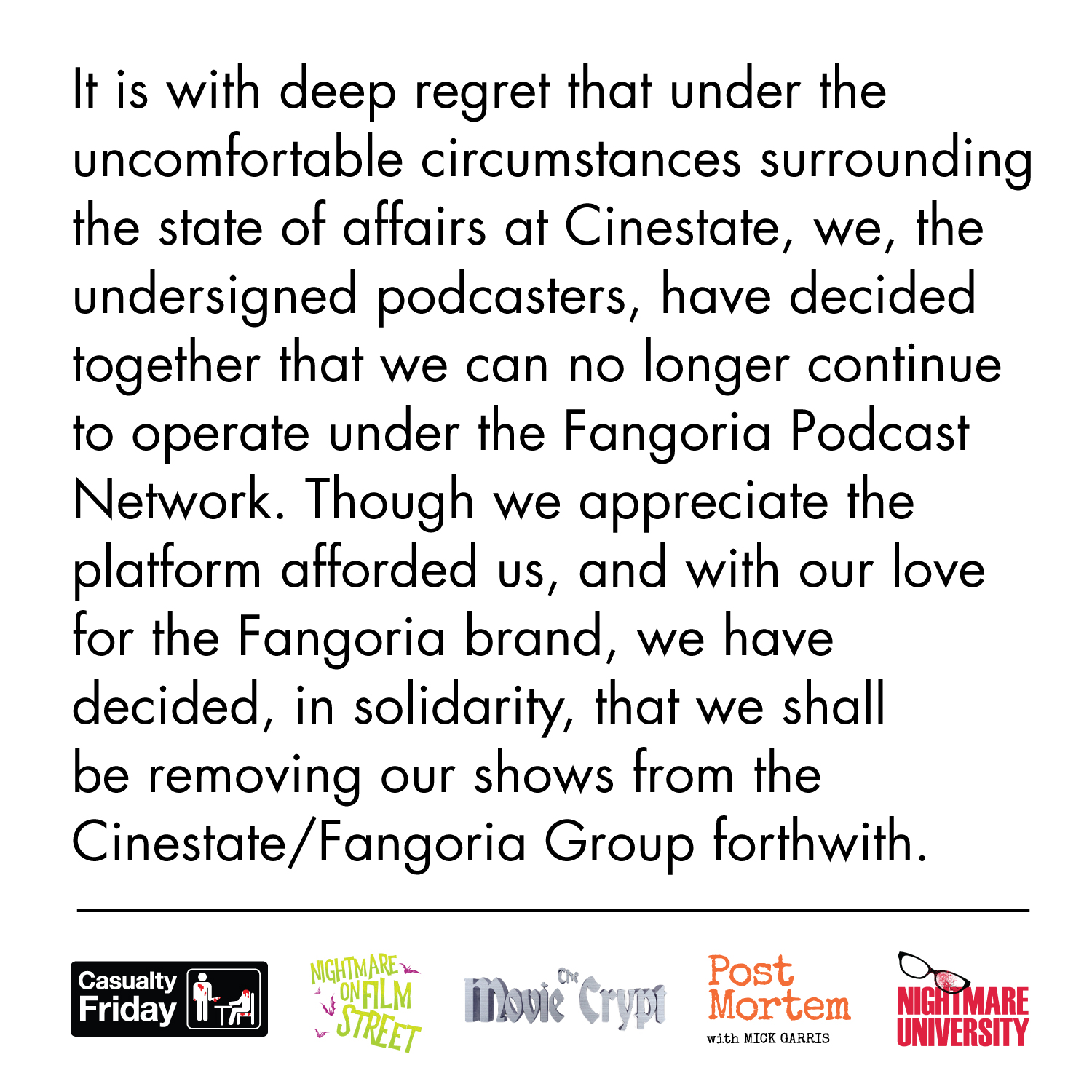 Podcasts include: Casualty Friday, Nightmare on Film Street, The Movie Crypt, Post Mortem with Mick Garris, Nightmare University
Last night, Rob Galluzzo revealed on Twitter that he had resigned from Fangoria. We'd share that tweet if we could, however, it would appear Galluzzo has deleted his Twitter account.
Source: Twitter, Dread Central